What's up Wednesday
Hello readers,
What I'm Reading
I finally read my first Sarah Dessen book.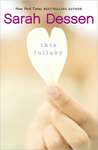 This Lullaby
by
Sarah Dessen
My rating:
4 of 5 stars
I love the friendship the four girls have. All their little things together. I love the descriptions of being a writer. At first I didn't like dexter, then was iffy about him, but now I like their friendship. I love her mother. I'm sad about her marriage but glad she's okay. And finally I love the full circle the song came in.
Along with that, I just finished my second Ellen Hopkins book. The first being BURNED.
Rumble
by
Ellen Hopkins
My rating:
5 of 5 stars
In the beginning I was on edge with Matt and Hayden. The one with faith or the one without faith. I love that there wasn't too much or too little, just the right amount of talk about faith.
I kept going between which of them to like. And there also was his dad, which I didn't like. Also, there was Gus. I thought he was a minor but if you've read other Ellen Hopkins books you would know he is important. He's a wild card.
But then we meet his uncle, Quin and Alexa. And his mom gets better. I love the simplicity of how he learns about prayer. How he slowly opens up with each accident. The end was both saddening and filled with content. I was in shock and awe of it.
What Else I've Been Up To:
I haven't started noveling yet, like I said last week I'm on a hiatus until October. I have been writing poetry and studying.
What Works For Me:
I may not be noveling right now but I do journal. Whether I had a busy day or not I squeeze in some time before bed and again right when I wake up.
As for poetry, I don't write everyday but when I do I right a lot and cannot be interrupted. I'll spend a half an hour outside if I have to.
Love and thank you,
Fida